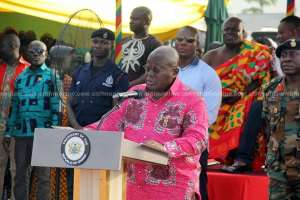 The National Coordinator of the 1-District 1-Factory program , Gifty Ohene Konadu, has given assurances that her outfit will not rush to commission uncompleted or non-functional factories.
Speaking at a press conference in Accra on Monday, Gifty Konadu said her outfit is taking measures to ensure that all 216 factories across the country are fully operational by 2020.
"The One District One Factory Secretariat in the interim has remained very focused and determined to roll out new factories with very strong commercial viability and high levels of sustainability. The painstaking efforts have been directed at ensuring the selection of projects with a solid raw material base. I don't want to create white elephants, so we will not cut sod just to excite people. … If you site a project at a place and the community people don't accept it, it will become a white elephant. … At the appropriate time, when we have exhausted all the teething problems, we will line up the projects and cut sod to begin construction of the projects," she said.
While giving assurances that the program will help reduce unemployment in the country, she said various chiefs were being engaged for lands to be released for the construction.
"The Secretariat has so far engaged with different institutions whose activities are linked, in one way or the other, for the successful implementation of the policy. The chiefs are very important in the scheme of affairs of this policy of one district one factory, because one of the critical issues that we look out for is the acceptance by the community. … So the chiefs who are releasing lands, we are in constant talks with them because we want litigation-free lands," she said.
"Again, we want to ensure that the land is properly owned by somebody because we have had experiences where lands have been released and later when projects spring up, people rise up and issues of ownership and all kinds of things come up; and then it stalls the progress of the project," she added.
President Akufo-Addo on 25th August, 2017, commissioned the first factory under the program ; a pineapple factory at Ekumfi in the Central Region.
He pledged his outfit's commitment to ensuring that the program becomes successful.
–
By: Akosua Ofewaa Opoku/citifmonline.com/Ghana
Credit: ModernGhana.com