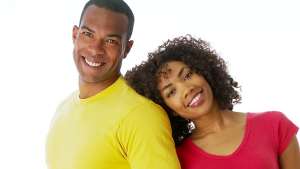 Photo credit – Shutterstock
1. He Needs Her to Be His No. 1 Fan (Encouragement)
Inside every man's heart is a longing for the answer to this question: "Do I have what it takes?" Now ultimately, your boyfriend receives this confirmation from his heavenly Father (and sometimes from his earthly father), but as his girlfriend, you can help instill the confidence he needs to be the man God has called him to be.
Your boyfriend doesn't need you to try to get his attention; he needs your respect and encouragement. In Genesis 2:18 we see that Adam needed a helper, so your role of encourager in his life is essential.
What does this look like practically?
Recognize and encourage your boyfriend in his giftings. Give him that extra nudge and the "you can do it" when he needs it. Your boyfriend really does need that kind of encouragement.
Every time you hang out, don't tell him the 15 things he needs to change (even if half of them are true). Pick and choose your battles wisely, and always err on the side of adding value to him.
Guys perform better when others encourage them to do so. Building your boyfriend up and being his No. 1 fan is one of the best things you can do.
2. He Needs Fun Companionship (Adventure)
Ladies, you might wonder, What does my boyfriend want to do for fun? That's an important question, as all lasting relationships have to have an element of fun. And your definition of fun could be totally different from your boyfriend's definition. Here's a little secret where you can't go wrong with men. It's one word: adventure!
Your boyfriend has a longing to explore, fight, conquer, and be wild and free. This is what is "fun" for him. He wants his girlfriend (and hopefully someday spouse) to be his companion on this wild adventure called life.
What does this look like practically?
Be willing to adventure with him. Coffee dates and deep talks about feelings and emotions, although important, may not always cut it. Get outside in the elements, take a surprise trip, or overcome a physical challenge together — it's really quite fun!
Be aware of where the fun and adventure meter is at in your relationship. Not every date has to be some crazy, life-threatening adventure, but if the meter gets low, don't be afraid to switch things up.
Your boyfriend needs fun companionship, and who better to run wild with than with you? So enjoy the adventure and have a blast.
3. He Needs Her to Understand His Purity Struggle (Support)
God wired men to be visually stimulated which is why lust is such a big issue. It's good to realize that lustful images bombard your boyfriend on a daily basis, whether it's via social media, the Internet, or a TV commercial. It is also healthy for you to know that most guys — Christian or non-Christian — have been exposed to pornography in their past. Or maybe your boyfriend had previous sexual experiences prior to dating you. Wherever your boyfriend is at, he needs you to understand that his fight for purity is a struggle.
Now, he should primarily seek support and encouragement from other guys and accountability partners. But he needs to know you're in his corner and that you desire to see him continue to grow in victory.
Too many girlfriends become another voice of condemnation that cripples their boyfriend's hope of ever achieving victory in their purity battle. This could be in the form of disgust, yelling at him, or a long period of the silent treatment. If your boyfriend senses your support, he is more likely to have confidence and the drive to keep fighting for purity.
What does this look like practically?
Ask the hard and difficult questions to find out where your boyfriend is at with lust, pornography, masturbation, and past sexual experiences. Encourage complete honesty by asking with a loving tone and gentle spirit. Then try your best to not overreact and seek to understand and support. On the other hand, depending on what is shared, a break up might be a healthy option.
Pray for him. Understand that lust is an ongoing temptation for your boyfriend, and make the choice to pray for him. Nothing motivates a guy more than to know he has someone else in his corner.
Your boyfriend might not say he needs your help in this arena, but he probably does. My best advice to you is to be aware of the struggle and pray for him.
4. He Needs Breathing Room (Space)
Alright, I know this one might sound confusing. Usually when a girlfriend hears the word "space," she immediately thinks the relationship is in jeopardy. However, that is not always the case and is not what I'm referring to.
Most guys are energized through physical activity or alone time, whereas most girls are energized through connecting. Guys like connecting, but aren't energized by it like girls are. Therefore, guys usually need more space in the relationship than girls do.
Space doesn't mean that he doesn't care about you, but instead, space is a necessary boundary for him to have a healthy perspective on the relationship. He needs a good balance of alone time to process his thoughts and feelings.
Guys aren't usually as quick to communicate what's going on in their hearts compared to girls. Allow your boyfriend a little extra breathing room when it comes to the heart stuff, and you'll be surprised what he shares with you.
Your boyfriend also needs to know that his relationships outside of your dating relationship are going to be OK. Just as much as he loves you, your boyfriend really values brotherhood and those tight-knit guy friendships (just like "girl time" refreshes you). So allowing him to kick it with the guys every now and then adds great value to your boyfriend. These relationships sharpen your boyfriend and challenge him to be a man of God, which in turn, benefits your relationship.
What does this look like practically?
Set up healthy communication boundaries or determine how often you will hang out with each other during the week. It's important to have the freedom to be individuals as well as a couple.
Don't look at his hobbies and friendships as a threat to your relationship. Instead, support and encourage them. These hobbies and friendships are healthy outlets for him (and you) and can add the proper balance that every relationship needs.
Whether you're in a dating relationship or desire to be in one someday, it's important to know what your boyfriend really needs: a No. 1 fan, adventure, understanding and support with purity, and a little bit of space every now and then.
Your role in your boyfriend's life is important. So now that you are in the know, here's to being the best girlfriend ever!
ModernGhana.com