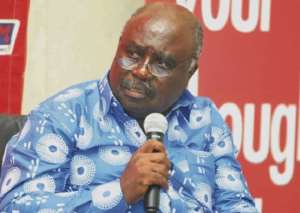 Dr Charles Wereko-Brobby
Former Chief Executive of the Volta River Authority (VRA), Charles Wereko Brobby, has condemned the LPG Marketers Association's decision to suspend operations nationwide, describing it as an attempt to blackmail government.
Mr Brobby indicated that the move is a knee-jerk reaction aimed at pushing government to meet the demands of the association, adding that the decision might rather worsen the challenges LPG marketers face.
"I think that the reaction is totally knee-jerk and unnecessary and will lead to the acceleration of the problems that they are fighting because at the end of the day, it is about the consumer, and making sure the consumer is well served… This idea of self-segregation doesn't work. It is a totally needless and fruitless decision."
He pointed out that the National Petroleum Authority (NPA) is also to blame for the Association's decision since it failed to dialogue before closing down some stations, thus forcing the latter to suspend its operations.
"The taskforce and the NPA should have published the rules of engagement and should have told the Association which stations they have closed down and why they closed them down. There's been a problem because the regulators have not done their job well."
Meanwhile, the Vice Chairman of the LPG Marketers Association, Gabriel Kumi, has said they took the decision to suspend operations nationwide to protest against what they consider as unfair treatment by authorities.
Mr. Kumi alleged that some state officials, including assembly members, have been extorting money from LPG Marketers across the country, since the deadly Atomic Gas explosion and the subsequent directives from government to sanitize the industry.
Mr. Kumi indicated that some stations are even facing a threat of closure by the assembly members, who are supposedly extorting money from them.
"We have assembly men going round our stations that they want to close it down. There is a whole extortion business going on by this team."
The Association has not indicated when it will allow members resume regular operations.
It indicated that the closure was to allow for a safety audit.
Mr Kumi has however clarified that the move is primarily a response to government's decision to close down some high risk fuel stations.
Credit: ModernGhana.com