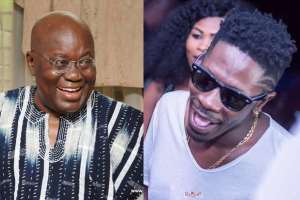 You fika say na only fresh boys den girls get Pidgin swag? You for make steady! Favour Nunoo, Accra-based journalist, just report say President Akufo-Addo for Ghana drop just one pidgin flow for Twitter and social media for Ghana don scatter.
People wey tink sey na only English den slang President Akufo-Addo fit speak dey inside shock no be joke.
Di gist be dis; popular dancehall artiste for Ghana who dey celebrate im birthday on 17 October carry tweet ask President Nana Akufo-Addo what im dey give am as birthday gift.
Dis be where the unexpected don happen, President Akufo-Addo as ei want reply Shatta Wale do am for Pidgin inside too.
Happy birthday @shattawalegh ! You for come visit me for Flagstaff House o! — Nana Akufo-Addo (@NAkufoAddo) October 17, 2017
Make u see Shatta eim response:
Thank you your Excellency .I will follow the necessary procedures and pay a visit soon Mr. President. I hope my land cruiser will be ready😀 — SHATTA WALE (@shattawalegh) October 17, 2017
The reactions chao like sand wey dey beach, eim one tweet lighten up Ghanaians demma mood, some self wan make dem write ein speeches all for Pidgin. See the reaction wey follow from Ghanaians.
As Nana write in Pigin deerr we ar free to write our exams in Pigin 🤣🤣🤣🤣 — Quami Lyrics (@LyricsReal) October 17, 2017
As Nana write in Pigin deerr we ar free to write our exams in Pigin 🤣🤣🤣🤣 — Quami Lyrics (@LyricsReal) October 17, 2017
Shatta wale how dare u???. A whole president tweet for pidgin inside buh u reply am for english inside. Why? What you wan prove???? — Martial's Bestie😎 (@Qweku_benny) October 17, 2017
Nana u dey speak pidgin
Wooow
Mr Prez u do allðŸ'ðŸ'💠— kwame anokye (@fuji_nero) October 17, 2017
Di 73-year-old President for Ghana once again show eim people sey he still be young at heart, eim market don come.
During the 2016 election, as Presidential Candidate for New Patriotic Party (NPP) na picture of am wey dey suck Kalyppo juice which primary school pupils dey love pass scatter everywhere for social media.
Ghanaians start Kalyppo challenge self, so as eim pidgin don fall on Ghanaians like Davido ein banana fall on you popular lyrics – ei fit be sey Pidgin challenge go emerge? Well, we dey spy see what go happen.
ModernGhana.com