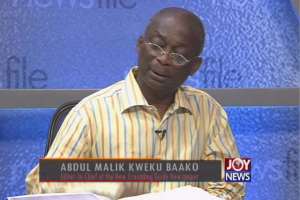 Veteran journalist, Abdul Malik Kweku Baako says the convicted members of pro-New Patriotic Party (NPP) vigilante group who assaulted a security capo should have been handed a jail term instead of a fine slapped on them.
The Editor-in-Chief of the New Crusading Guide newspaper expressed disappointment in the decision by trial judge to hand the culprits a fine of ¢1,800 each.
"I would have wished the judge just gave them a custodial sentence," Mr Baako told Samson Lardi Anyenini host of Newsfile on Joy FM/MultiTV on Saturday.
According to him, the country since the advent of the Fourth Republic has experienced a catalogue of "politically attacks" which did not attract "any serious investigations into them and we all got worried."
"Within this context, we might be thinking that at least there were one or two instances we might be able to convict and sentence," he added.
In July 2016, the Supreme Court sentenced to four months' imprisonment, a presenter and two panelists of an Accra-based radio station, Montie FM, after were convicted of contempt following their threat to kill some top judges.
The three were also fined ¢10,000 each with the owners of the broadcasting company also fined ¢30,000.
The governing National Democratic Congress (NDC) at the time, issued a statement expressing disappointment at the "severity and harshness of the punishments imposed on the 'Montie Trio'.
They were later to be granted a presidential pardon after serving a month in jail.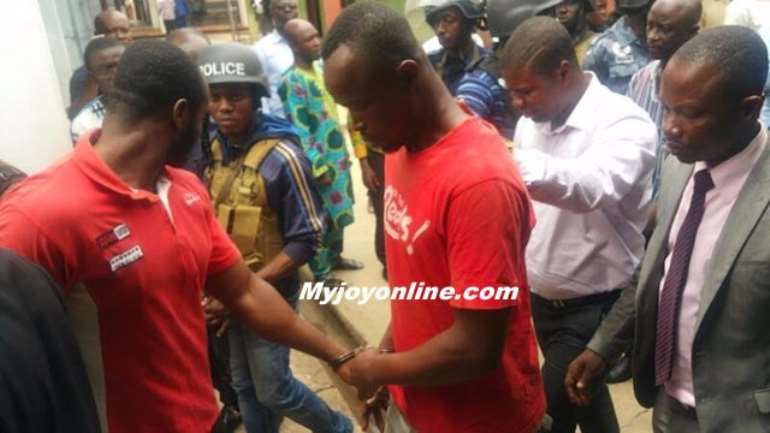 On March 25, 2017, three months after the NPP took over power, 21 well-built men of 'Delta Force', a vigilante group aligned to the governing party, stormed the Ashanti Regional Coordinating Council and physically assaulted the Security Coordinator, George Agyei.
He was reportedly beaten, dragged on the floor while his office was vandalised by the group in disapproval of his transfer from the Eastern Region to the Ashanti Region.
On Thursday, the Asokwa Circuit court presided over by Korkor Achiaw Owusu found 13 of the members guilty of rioting and ordered them to pay the fine of ¢1,800 each or in default, they are to spend 12 months in jail.
He expressed difficulty in coming to terms with the decision by the A-G to drop an earlier charge of assault against the offenders.
"The truth of the matter is that they should have left the assault and let the court go through the process…they may be happy at home now but I am very disappointed, I think they should be serving some term in prison," he said.
Mr. Baako also charged the police to look for the whereabouts of the remaining 8 members who took part in the act and have gone into hiding and let them face the law.
"They [police] should search, locate and apprehend them for possible prosecution," he said.
Story by Ghana | Myjoyonline.com | Jerry Tsatro Mordy | Email: [email protected], Twitter: @jerrymordy
ModernGhana.com