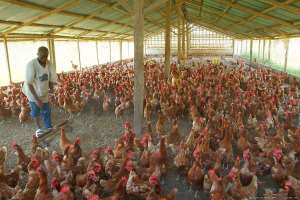 Last year's avian flu which resulted in low sales for poultry farmers is just one of many challenges that Ghana's poultry sector is battling.
Unrestrained trade liberalisation allows importation of poultry products to compete with the local ones.
Ghanaian poultry farmers and other stakeholders are collaborating with foreign partners for an international exhibition next month
It is part of measures to revive the industry in the country
The PALS AFRICA International Poultry, aquaculture and livestock show is holding for the second time in Ghana by local organisers.
It will bring together industry players to network and form partnerships to enhance growth of local businesses.
Over 50 exhibitors from across the world are expected to share their expertise at the fair.
CEO of Chicks and Chicken, John Bewuah Edusei, who is the brain behind the initiative revealed an Indian firm did the maiden edition so it became incumbent on us to take it up and continue.
According to him, Industry players will meet together ones in the year to learn to discuss and push the industry forward.
"It is our widows might towards the creating of jobs in the country because we believe the industry holds the potential to create avenues for jobs."
Theme for the three day far is, 'up-scaling the poultry aquaculture and livestock show through modernisation'.
Exhibitors are expected to introduce new technologies and some modern ways of poultry farming to strengthen the poultry business.
One of the poultry farmers, Boris Baidoo of Boris B farms believes technology is critical for growing the sector.
"There are new technologies in the system and it is such fairs that you get to see and appreciate them.
We are pleading that if the government supports it to be bigger, i believe it will not only be beneficial to the farmers but to the whole agriculture sector."
Ashanti Regional Director of Agriculture, Reverend John Manu, believes the collaboration will enhance efforts to promote food security.
"We want to modernise agriculture, and out there people are advanced so as they exhibit at the fair. Our farmers will tap into these new practises and improve upon what they are doing to reach the level we want our industry to get to."
Credit: ModernGhana.com