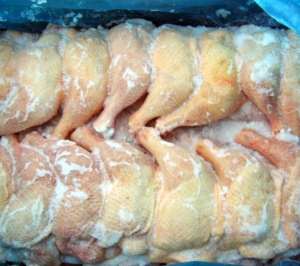 Local poultry farmers have lashed out at government for granting tax cuts to frozen chicken importers.
The comment follows claims of unfair treatment in the tax regime for frozen food importers.
Early this week, some members of the Frozen Foods Importers Association petitioned government over some tax cuts being granted some of its members, which they assert has created unfair competition in the industry.
But the local poultry farmers have called on government to ban the importation of poultry products as it was a major contributor to the declining local market.
In an interview with Citi Business News, Vice President of the Poultry Farmers' Association of Ghana, Napoleon Agyeman Oduro said government must endeavor to support the local poultry industry rather than cripple it.
"To reduce tax for an importer of chicken means you are not putting producers of chicken in the country on a level ground. When you look at how much it cost people to produce in countries where importers get the chicken from, we do not have that leverage. We do not have a fair playing field such as they having access to credit. The credit they get is cheaper than ours but when it comes to this part of the world, we lack these. Then the person will go bring it into the country and you reduce tax for the person, you are only trying to worsen the unemployment situation of the country," he bemoaned.
He believes the issue must be of grave concern to all Ghanaians and must get government to take an immediate action towards the situation.
"It should be a concern of the whole state. Whatever attention we need to offer poultry production in the country, as government, as people as producers we must think of the way forward than to encourage importation of chicken which is usually unwholesome anyway" he stated.
–
By: Jessica Ayorkor Aryee/citibusinessnews.com/Ghana
Credit: ModernGhana.com