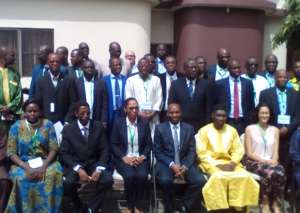 A group photo of the participants
Government has indicated that the country can make significant progress in the production of cereals and other crops in the coming years following the roll out of its "Planting for Food and Jobs" policy.
Dr Sagre Bambangi, Deputy Minister of Food and Agriculture, who disclosed this, said the policy would also enhance efforts being made by government to boost the Economic Community of West African States (ECOWAS) driven Regional Food Security Storage Reserve Project (RESOGEST).
Ghana has already provided some warehouses in Yendi in the Northern Region for the Regional Food Storage Reserve, he mentioned.
Dr Banbangi, who disclosed this at the 2nd annual meeting of the members of the RESOGEST at the MIKLIN hotel, East Legon, Accra lately, gave assurance that Ghana will be the trail blazer in the promotion of this agenda.
He averred that government has established the National Food Buffer Stock Company (NAFCO) to help stabilize food prices while ensuring their availability all year round.
Qusseni Salifou, Executive Director of ECOWAS Regional Agency for Agriculture and Food (RAAF), on behalf of Tchambakou Assayor, Commissioner for Agriculture, Environment and Water Resources, said the project team has in stock 11,180 tonnes of cereals comprising maize, rice, sorghum and millet.
The Executive Director also averred that the initial success of the project enabled ECOWAS to make a donation of 130 tonnes of cereals to Nigeria as solidarity during the crisis in that country.
Background
ECOWAS, in 2013 at the Yamoussoukro, Cote d'Ivoire, enacted a supplementary Act establishing the Regional Food Security Reserve.
It was aimed at complementing the efforts of member states to provide rapid and diversified food in the advent of an outbreak of a crisis, among others.
The European Union Commission committed itself to providing 56 million Euros to implement the project.
Credit: ModernGhana.com