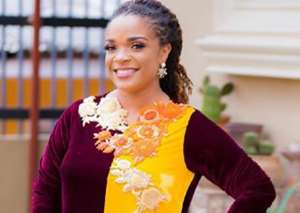 Ophelia Crossland
Ghana's iconic fashion designer, Ophelia Crossland, will be showcasing her amazing designs at the 2017 Swarovski Sparkling Couture Infinity Exhibition in Dubai.
She is the only African and first Ghanaian to showcase at the world event alongside over 50 other world designers.
Swarovski, the world leader in precision-cut crystals for over 120 years, delightedly announced that its Sparkling Couture: Infinity exhibition, celebrating couture and fashion design, will open at Dubai's Madinat Arena on October 25, 2017.
Two years after the 'Sparkling Couture: Infinity' exhibition's debut, Swarovski is preparing to host the second edition. Due to open on October 25, 2017 at the Madinat Arena in Dubai, it will be a dazzling celebration of couture.
This year's inspiration draws on the idea of the infinite possibilities for creativity and innovation afforded by crystals from Swarovski.
More than 40 haute couturiers and 56 designers from 17 countries have, so far, been invited to participate, each chosen for their design excellence in segments such as jewellery, interiors, apparel (couture and modest wear), shoes and bags.
Each designer will be presenting one piece created exclusively for the event, which highlights outstanding innovative use of Swarovski crystals.
Showcasing their work in each segment will be Tchi Tchi, Bo Cou and Dorsa for accessories category.
The likes of Michael Cinco, Ezra, Dar Sara, Arushi, Lama Askari, Maria B, Zeinab Chotani, Bunto Kazmi, Sania Maskatiya, Georges Hobeika, Elie Awad, Jean Louis Sabaji, No Fux Label, Stella Taleb, Persis (Zahra Pourfad), Reza Zarei, Masih Zad, Mitra Couture, Dar al Hanouf, Tarun Tahiliani, Shantanu & Nikhil, Hian Tjen, Finale Wedding Studio, Vestal by Jung Hye Jin, Wang Peiyi, Rizalman, We Couture, Uno Kanda and Ghana's Ophelia Crossland who will be showcasing for couture segment.
There will also be jewellery designers such as Vinita Michael, Confluence, Inaaya, Shadras and Valérie Valentine showcasing their products, as well as modest wear by Hanayen (UAE), Rizwan, Zumorrod, Bait Hanayen (KWT), Al Qattan, Bait Abaya Al Sharqiaa, Shafira and NH Prima.
In the scarves segment will be works by JF Scarves, Beige, Diamo Dal, Ezma, Vintage Shades, Zu Uan and Bawal and also shoes by Joy Shoes.
Commenting on the exhibition, Andrew Mojica, Managing Director, Swarovski Middle East, said, "This year's Sparkling Couture Infinity exhibition in Dubai will bring together Swarovski's most exciting designer partners in a celebration of extraordinary creativity. Having seen the designs that will be unveiled, I'm sure that it will be an event to remember."
"We are excited to be part of the Swarovski exhibition and we will definitely make Ghana and Africa proud out there," Ophelia Crossland, who is also an ambassador for Swarovski, told NEWS-ONE on Thursday.
She is expected to leave Ghana for Dubai on Monday. Swarovski delivers a diverse portfolio of unmatched quality, craftsmanship and creativity.
Founded in 1895 in Austria, Swarovski designs, manufactures and markets high-quality crystals, genuine gemstones and created stones as well as finished products such as jewellery, accessories and lighting.
ModernGhana.com