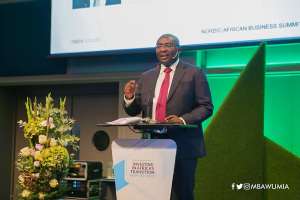 Vice President Bawumia
Vice President Dr Mahamudu Bawumia says investments from Norwegian and other Nordic countries into Ghana and Africa will soon see a boost as government continues with efforts to facilitate investments, trade and partnerships within the two regions.
Dr Bawumia, who was Guest Speaker at the 2017 Nordic-African Business Association (NABA) in Oslo Norway, said the high levels of interest being shown by Nordic Businesses to invest in renewable energy, agriculture, shipping and healthcare among others in Ghana and Africa are encouraging and require focused facilitation to succeed.
The Vice President held several hours of meetings with various potential investors and directed the Ghana Investment Promotion Centre (GIPC) to follow up and ensure that they are paired with competent Ghanaian business partners to build synergies for execution.
Dr Bawumia assured the investors of ongoing reforms that are aimed at making state agencies faster and more efficient in their work as well as focused government attention through the Delivery Unit at the Flagstaff House to speed up selected projects and ensure quick execution.
"This new administration believes that there is the need to remove as many bottlenecks as we can, which ordinarily slow the business environment and make it difficult for us to improve productivity and returns on investments. President Akufo-Addo has charged us to be quick in removing inefficiencies and areas of corruption which naturally inhibit the rate at which we can run at our goals. That is why you have seen us push through the paperless port clearance system and paperless business registration while we quickly move to e-procurement as well as payment interoperability. It is our belief that the synergies derived from all these automated systems will improve efficiency and productivity not only for the business community but also for the broader Ghanaian economy"
GIPC Chief Executive Mr Yoofi Grant as well as officials of the Delivery Unit of the Flagstaff house who accompanied the Vice President are meanwhile working to set up the needed partnerships to ensure that local content representation is guaranteed in these expected investments.
About 500 delegates from 25 countries took part in this years Summit. Since 2011, more than 200 speakers, and more than 2000 delegates, have participated in the summit opening up business and investment relationships between the Nordic regions and Africa. It is expected that business relations between the two regions will increase as high level attention is now being paid to the opportunities available.
Credit: ModernGhana.com