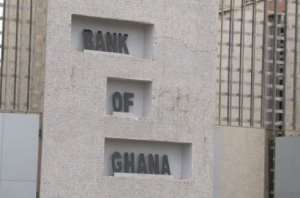 The Association of Rural Banks is calling for an extension of the deadline to meet the minimum capital requirement for rural and community banks.
Bank of Ghana (BoG) has asked financial institutions in the sector to recapitalise in a move to address indiscriminate collapse of banks and protect depositors.
December this year is the deadline for rural and community banks and other commercial banks to meet the new minimum capital requirement.
Chairman of the association, Nana Dr. AKowuah Boamah, tells LUV BIZ if the central bank fails to reconsider the deadline, some of its members will go down in the face of increased corporate tax from 8 per cent to 25 per cent.
"The deadline should be extended for those who haven't met the recapitalization," he pleads.
He, however, acknowledges the fact that the Bank of Ghana cannot be blamed because as a deposit-taking institution, the banks have the obligations towards their depositors in case the bank goes down that is why the Bank of Ghana is demanding the raised capital.
"However, we think that this has to be revisited so that banks who must reach the capitalisation requirement will be given sometime more to work on plans of recapitalising and making sure that they meet the requirement, but the requirement has to be met because we are taking depositors' money," he said.
According to the ARB Apex Bank, only about 40 out of the about 141 rural and community banks have so far met the requirement.
Board Chairman of Amenfiman Rural Bank, Dr Tony Aubynn, the former CEO of the Minerals Commission, says although the bank has met and even exceeded the requirement, he agrees to the deadline extension.
"Like all the banks in Ghana, some are strong and others struggling. If you look at what we do and our locations, it is not easy to raise that amount of stated capital.
"So the fact that some us have met it doesn't mean our colleagues to should be left behind. So while appealing to the government for the issue of capital to be extended, I also urge my colleagues to do well to raise their capital. Because If you have a stronger capital it is good for you the bank," he said.
Meanwhile, officials of ARB Apex Bank, regulators of rural and community banks, say an extension will not be necessary.
Head of banking at ARB Apex Bank, Maxwell Donkor says members must meet the deadline or merge with other banks to stay afloat in the business.
According to him, though he cannot pre-empt what sanctions the Bank of Ghana will apply to these banks by 31st December, it could mean that since the Bank of Ghana gives the license, they can easily revoke them.
ARB Apex Bank together with the Bank of Ghana have been urging that banks should consider mergers.
Credit: ModernGhana.com