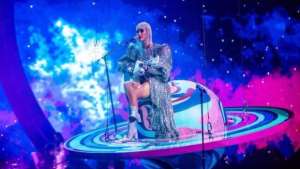 Katy Perry was left dangling above fans' heads when a floating platform malfunctioned on her world tour.
The star had just performed Thinking Of You, perched several storeys above the audience on a model of Saturn.
But the prop refused to return to the stage, leaving the star stranded.
"This is the first time I've been stuck in space," she joked.
"I know I'm kind of a space cadet but actually, this thing is stuck."
"What should I do? Should I tell some jokes, should I tell some stories, should I just sing another song?"
The Witness tour features dozens of elaborate stage props
The star, who is one month into her Witness World Tour, was playing Nashville's Bridgewater Arena when the malfunction took place.
As stage hands tried to work out how to rescue her, Perry told fans: "You'd better put your phones up, it's a YouTube moment!"
In video posted on Twitter, the star added that she was getting constant updates from "the voice of God in my ear".
"I'm not talking about the voices in my head, they're just people," she laughed.
Perry continued the rest of her show without incident
After about two minutes, the singer was lowered manually to the ground, but could not get all the way down without crushing the audience.
Instead, she dived into the crowd and walked back to the stage.
"I guess I'm just going to have to get down and walk amongst my people. I love this so much, This is what you get for trying to bring out all of space to Nashville.
Perry has become known for her elaborate stage shows, and the Witness tour features several moveable platforms, larger-than-life mannequins and a pneumatic hand that grasps the star and pulls her beneath the stage,
"Left shark" – her famously un-coordinated dancer from the 2015 Super Bowl – also makes a cameo.
The first seven shows of the Witness tour were postponed due to "production issues" but subsequent dates have proceeded without a hitch.
The UK leg of the tour takes place next June, with dates scheduled in London, Birmingham, Sheffield, Liverpool, Manchester, Glasgow and Newcastle.
ModernGhana.com