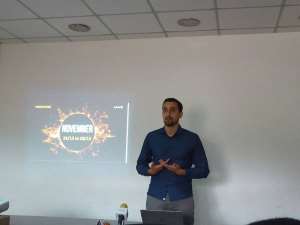 Jumia Black Friday, an annual festival is offering customers in Ghana up to 70percent discounts on items from 24th November to 8th December this year.
At a press briefing in Accra, the Chief Executive Officer for Jumia Africa, Mr. Massimiliano Spalazzi said the event seeks to satisfy the needs of customers who want to enjoy quality products at ridiculously cheap prices on the market.
He indicated that Jumia is building on the successes of 2015 and 2016 to triple purchases this year by offering the best deals that ordinarily one may not find on the market.
The African CEO noted that customers who shop during that period will enjoy good discounts on purchases up to 70percent and 80percent in all categories including phones, electronics, computers, fashion, home appliances and many more.
Mr. Spalazzi added that the important feature about this event is that customers within the festive period will also enjoy free special delivery especially on Tuesdays called Happy Tuesday.
According to him, the unique style about this annual event is that it is the biggest event in e-Commerce which aims at putting together all the producers, vendors, distributors to come out with the best deals to reach out to millions of customers.
The Managing Director for Jumia Ghana, Mr. Ore Odusanya stressed that Jumia is a trusted partner that aims to fill the void of trust through cash on delivery services to avoid the issue of fraud and fake products.
He added that Jumia has partnered MTN to integrate a mobile payment system for customers who simply want to avoid the burden of carrying cash around or do not have cash on them.
Mr. Odusanya emphasized that Jumia has invested more in logistics and personnel to beef up their online platform to ensure that customers can conveniently make purchases with speed.
Credit: ModernGhana.com