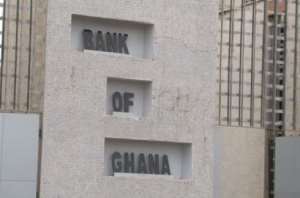 Commercial banks have reduced their interest rates they offer on customer deposits.
Latest figures released by the Bank of Ghana have shown that the average interest rate customers get on money deposited at banks reached 10.4 percent in September 2017.
According to the Annual Percentage Rates (APR) and Average Interest (AI) report, the figure is down from the 10.8 percent recorded in August 2017.
The decrease also represents a drop of about 30 percent for the one month period.
The recent survey which was carried on thirty-one banks in Ghana showed that with an interest rate of 14.8 percent on customer deposits, Premium Bank topped as the bank with the highest interest on deposits.
It took over from First Atlantic Bank who topped August with interest on deposits at 18.9 percent.
At the 2nd position is Omnibank with 14.7 percent with the Royal Bank and Bank of Baroda placing 3rd with a 14.5 percent interest rates on deposits.
Following closely at the 4th and 5th positions are GN Bank and United Bank for Africa who will offer you interest rates on monies you deposit with them at 13.3 and 13.1 percent in that order.
Sovereign Bank, Unibank and Stanbic Bank placed 6th, 7th and 8th with interest rates at 12.9 percent, 12.6 and 12.4 percent respectively.
In addition, the 9th, 10th and 11th highest interest rates on customer deposits are offered by Zenith Bank, National Investment Bank and First National Bank.
Barclays Bank whose interest is same as the industry average of 10.4 percent occupies the 13th position.
It is followed by Fidelity Bank and BSIC with interest rate on deposits at 10.1 and 10 percent respectively.
For the banks with the six lowest interest rates on customer deposits, Standard Chartered Bank tops with interest on deposits at 4.9 percent.
It is followed at the 2nd and 3rd positions by Energy Bank and FBN Bank Ghana with interest of 5.7 and 5.3 percent respectively.
Moreover, ADB Bank, Universal Merchant Bank and Guaranty Trust Bank will give you interest rates of 6.2, 6.6 and 7.4 percent.
They occupy the 4th to 6th positions from the bottom.
Credit: ModernGhana.com