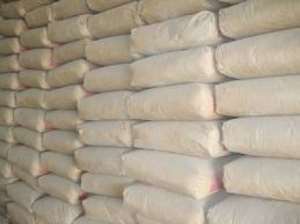 Local cement manufacturers are predicting an imminent collapse of the industry should authorities fail to regulate the unfair competition from imported cement.
They explain that the lack of punitive mechanisms have led to the dumping of substandard products on the Ghanaian market.
A situation, the cement manufacturers contend has rendered them uncompetitive.
They also fear they may be compelled to cut down on employment and be eventually thrown out of business if their concerns are not addressed.
The Sales and Marketing Manager of CIMAF, a cement manufacturing company at the Free Zones Enclave in Tema, Joseph Kobina Abu outlined the concerns during a visit to the facility by Works and Housing Minister, Samuel Atta Akyea.
"Since the country has the investments and can meet the market and over, we don't need extra importation. What we would be doing will be providing employment for the countries that they are coming from. So let's concentrate on Ghana and encourage local industries to produce more and employ more other than that the cement industry will collapse as it has happened in the textile and other industries," he remarked.
Mr. Kobina Abu in addition asserted, "There is no need for us to bring in any fresh or already produced product which sometimes we don't know the quality at hand. If cement comes to the port already manufactured and the next day it goes to the market and people start using it, before the actual damage could be detected, it would have already been widely circulated."
Meanwhile the Works and Housing Minister, Samuel Atta Akyea has blamed the unfair competition on inefficient laws in Ghana.
He however pledged his outfit's resolve to shape the regulations to benefit local producers.
"But it is sad to hear that there is a whole dumping regime of companies bringing cement from Nigeria or China to undercut the market. They can produce to meet local needs and create jobs and enhance our GDP but if we do not have the proper laws in place and enforce them to ensure that people do not do dumping in terms of cement, then we are going nowhere with government policies such as one district; one factory," Mr. Atta Akyea noted.
–
By: Pius Amihere Eduku/Elvis Washington/citibusinessnews.com/Ghana
Credit: ModernGhana.com