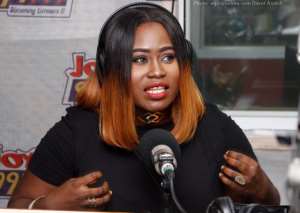 She is witty and sarcastic but that sardonic side of her has made her some enemies.
Lydia Forson's views on issues, be it political or social, does generate controversy. While some are quick to spot the sarcasm in her comments, others simply don't.
On Friday, May 1, 2015 for instance, when she wrote an open letter to former president John Mahama calling on him to end the power rationing, popularly referred to as 'Dumsor' , she received a huge backlash from a section of Ghanaians.
Describing the former president "like that kid in school who is always last, always gives the wrong answers and never seems to grasp what is being taught," the actress urged Mr Mahama to find a solution to the problem before she dies.
Another line from that letter that did not go down well with some people was when she told the former president to "tell your minions not to call me," because "their voices aren't sexy."
She was hit with a barrage of insults from persons who felt she had simply gone too far.
Commenting on the barrage of criticisms whenever she expresses an opinion on something, Lydia Forson said she is sometimes afraid to be sarcastic.
Before she posts her views, the actress, speaking in an interview on the Cosmopolitan Mix on Joy FM with Doreen Andoh, said she sometimes asks herself, "What if people don't get the joke?"
Lydia, who said she is naturally a sarcastic person, noted that she is sometimes "afraid to be sarcastic."
Her friends, she noted, never call her whenever there is any controversy "because they know me."
"I grew up in an environment where I was heard," so she presumed the world would be the same but that doesn't appear to be the case.
ModernGhana.com