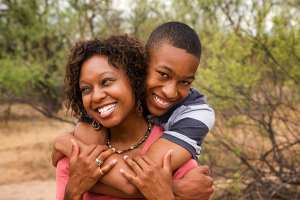 Photo credit- Istockphoto.com
4 Tangible Things I Do Every Day To Raise A Feminist Son
1. I teach him that no means no.
When I was 14 years old, I was sexually assaulted by a group of teenage boys. Although it may be more comfortable to imagine them as monsters, the boys who sexually assaulted me were actually just regular boys like my son.
Boys who may not have even thought they were doing anything so wrong that day that altered the course of the rest of my life.
What might have been different were all boys taught, clearly and simply, over and over, that "no" always means "no?"
If I accomplish anything as a mother, it will be teaching my son to respect the bodily autonomy of others.
At his age, that means clearly defining boundaries when it comes to touching and play. "Everyone is in charge of their own body" could be on our family crest. My son likes to be tickled, but the minute he says stop, I stop, even when he's giggling in excited anticipation. If he doesn't want a kiss or a hug, I don't give him one, no matter how much I want to grab him and smooch his eminently kissable face. As someone whose "no" was once violated, it's important to me that he understand that his "no" holds weight. He also knows that if we are touching another person in any way, and they say "no," we stop immediately. No matter what.
2. I teach him body positivity.
Not only do I want my son to grow up with a healthy body image, I want him to grow up to be respectful of women's bodies, and to question patriarchal beauty standards.
In talking to my son about fat, I've been following the example of Allison Kimmey, a mom we wrote about recently because she posted on Instagram about her response when her daughter called her fat.
Like Kimmey, I tell my son that everybody has fat on their bodies to protect their muscles and give their bodies energy. I tell him that some people have more or less fat but that doesn't make them better or worse. I tell him that we focus on whether our bodies are strong and healthy and not how much fat they have.
I also try to model a positive attitude toward my own body and avoid negative self-talk in front of my son. If he grows up seeing my curvaceous body as strong and beautiful, I hope that will be reflected in the way he views other women's bodies.
So you want to raise a feminist?
Start here, with the latest stories and news in parenting.
3. I teach him to feel his feelings.
Toxic masculinity teaches my son that boys don't cry, that he can't be vulnerable or sad, and that he can't express his feelings out loud.
As a future man, my son needs to know how to sit with a feeling, express one, and let it go. I try not to ever say "Don't cry," or "Everything's OK." Instead, I mirror his feelings back to him ― "Yes, it's sad when we have to say goodbye to our friends. That would make me sad, too" or "I can see that you're feeling angry right now."
When our beta fish, Boonga Boonga, died recently, I held my son when he cried, told him it was OK to be sad and to cry for as long as he needed to. I told him, "When hard things happen, you have to have the feelings and feel them even though it hurts."
I taught him that if you feel the feelings, they hurt less and less over time. And we practiced checking in with each other, saying, "How are you feeling now, Mom?" "I'm happy to be with you, and sad about Boonga Boonga's death. How about you?"
Teaching him to hurt is part of parenting an emotionally healthy boy.
4. I show him that women are strong.
As a single mom, there are a lot of situations where I've had to just "figure it out" ― whether it's how to hook up a video game system or which screwdriver to use to change the batteries in a remote control truck. It means that my son sees me (and, at other times, his single dad) doing all kinds of household work, not dividing it along gender lines.
Sons of single mothers "usually have a lot of respect for their accomplishments," according to Tim King , founder of Urban Prep Academies for low-income, African-American boys, as quoted in the NY Times . Maybe the "figure it out effect" is partly why.
My son also sees me doing the breadwinning for our household, which according to one study , means he'll spend more time on housework and child care as an adult. Whether you work outside the home or not, there are lots of different ways to exhibit your (formidable) strength to your sons.
My voice is pretty loud, but I'm still just one of many, many influential voices, some of whom are telling him that pink is for girls and trucks are for boys, that Wonder Woman isn't as cool as whatever third-string male superhero he's into that day.
Maybe I can't convince my son that Wonder Woman is cool , but I can be my own kind of Wonder Woman ― a strong, competent female role model.

ModernGhana.com