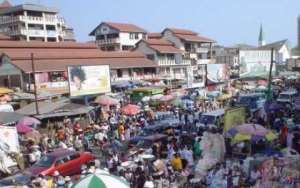 Deputy Minister of Trade and Industry, Robert Ahomka-Lindsay has called on African leaders to create a single continental market as a means of promoting inter-regional trade among businesses within the African region.
This he said will address the infrastructure needs of Africa, reducing trade barriers, lowering transaction cost for businesses, harmonizing policies as well as improving Africa's way of doing business with the rest of the world.
"Ensuring the regional integration succeed in Africa is a daunting task, yet surmountable if African leaders, policymakers, and relevant stakeholders give this noble dream of creating a single market the first push to see its success in our time," he said.
Mr. Ahomka-Lindsay was speaking at the opening of the second Kenya Trade Expo Ghana 2017 in Accra under the theme: "Breaking New Frontiers in Intra-Africa trade.
The three-day event will create new opportunities and partnerships for businesses of both countries.
The Trade Expo is targeting established and emerging businessmen and is aimed at enhancing trade relations between Kenya and Ghana following seven key trade agreements signed between the two countries in December 2014.
The model for the Kenya Trade Expo Ghana 2017 is to develop an engaging agenda of building partnerships between government and the private sectors.
It will be recalled that the first Kenya Trade Expo in Ghana took place in 2015, attracting over 2,000 emerging and established business people, government and non-government officials.
Participants from Ghana, Kenya, Nigeria, Togo, Benin, Cote D'Ivoire, South Africa, Namibia, Sudan, Europe and North America are attending the programme.
Trade volumes
About 25 Kenyan projects are currently registered with the Ghana Investments Promotion Centre (GIPC) in Ghana between 1994 and September 2017 with most of them in the manufacturing sector.
According to Ghana's Ministry of Foreign Affairs and Integration, trade flows from Kenya to Ghana was worth about $5.3 million in 2016, while Ghana's exports to Kenya stood at $2 million.
Credit: ModernGhana.com