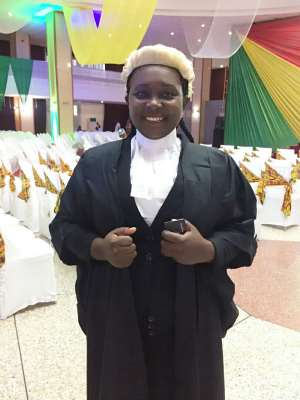 What would you do if you have envisioned your career path in a desired field but opportunities are simply not popping up?
Would you give up out of frustration or grab opportunities in other career fields you have not planned for?
The latter was Susanna Nyakotey's option which made all the difference.
Susanna came from a poor home and had to carry stones from a hole in stone quarry with her parents as a means to survive.
She worked at the quarry throughout her secondary school education to support herself witth basic school needs.
Growing up she developed a strong desire for journalism. She wanted to be the pretty lady reading news on your favorite TV channel everyday. But that would not happen as her career took a different turn.
"I had always nursed the idea of becoming a news anchor growing up," she said in an interview with Accra-based Radio station, Peace FM.
She added: "But I tried several times for a job in media houses but to no avail. Although, I had stints with Graphic Communications Group Ltd, I was not employed."
So after her National Service at the erstwhile Internal Revenue authority, now Ghana Revenue Authority, when she came accross an advert in the dailies seeking for interpreters at the Accra Circuit Court, she applied and got employed.
Her role meant that she interpretes court proceedings for people who could neither speak nor understand the English Language into three local dialects: Twi, Ga and Ga Adangbe.
Working at the court for 8 years under four judges, she developed intense interest in the law profession and decided to become a lawyer.
"At a point I developed interest in law. I observed how the lawyers and judges carried themselves in court and it was so appealing to me so I decided to study law," she noted.
Now, she holds a diploma in journalism so what could she do?
"So I enrolled at Zenith College for a Diploma in Law course, my Bachelor of Law (LLB) is from the University of London, then I applied to Ghana School of Law 2015."
Miss Nyakotey was part of the lawyers who graduated earlier this month.
She admits her success journey has been rough – Occasionally, she had to rely on the benevolence of some friends to pay her school fees as funds towards her education were difficult to come by.
The struggle that comess with combining studies and work also presented itself but she defied the odds and forged on.
She had this piece of advice for young people,"grab any opportunity that comes your way even if its not part of your career plan while waiting"
"Young women should not live thier lives anyhow. They should persevere and rely on God because if you are determined to do anything, God will always come through for you." she added.
Copyright Modern Ghana
All rights reserved. This article, or any portion thereof may not be reproduced, paraphrased or used in any manner whatsoever without giving full credit to modernghana and the author of the article. The source should clearly state modernghana and the writer's name either above or beneath the article when using. However, it could be used in brief quotations and in reviews.
ModernGhana.com