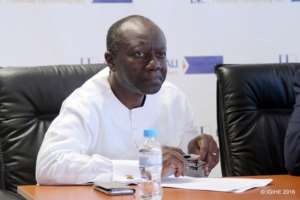 Finance Minister Ken Ofori-Atta
Most assets on Ghana's markets are held by foreigners and this could lend the country's financial markets to shocks, the maiden Africa Financial Markets Index launched in Washington D.C. recently has revealed.
Owing to the development, it said any time investors decide to repatriate all their investments at a go, that could mount severe pressure on the local currency and possibly trigger depreciation.
The research, conducted by independent think tank OMFIF and the Barclays Africa Group, tracked the performances of financial markets in 17 African countries.
It was hinged on six main pillars – market depth, access to foreign exchange, market transparency and regulation, capacity of local investors, macroeconomic opportunity and enforceability of international financial agreements.
The study also covered Botswana, Egypt, Ethiopia, Ghana, Ivory Coast, Kenya, Mauritius, Morocco, Mozambique, Namibia, Nigeria, Rwanda, Seychelles, South Africa, Tanzania, Uganda and Zambia.
Ghana performed poorly in reference to the capacity of local investors or their level of "interest" or 'holding" in securities, stocks and bonds on the capital markets.
Here, Ghana scored 12 out of 100, the lowest mark recorded in all the six pillars the country was reviewed.
It was also ranked 15 out of the 17 countries that were reviewed in the Index that most local investors have not got the right level of savings or disposable incomes to hold most of these assets on the local market.
Ghana was also ranked 7 out of 15 countries that were reviewed on the pillar of legality and enforceability of standard financial markets master agreement, beating other top countries like Namibia Nigeria, Egypt, and Morocco.
The country however made some strong gains in regulation, transparency and tax, ranking 8 of the 17 markets assessed.
In all the country was praised for having a strong potential for growth and possible market leader in the region.
South Africa came up top as the best market in the region for having a highly developed market.
Reacting to the findings, Finance Minister Ken Ofori- Atta, said government would look at how to use some of the pension funds to stimulate local participation in the capital markets.
He added that "government is committed to developing the capital market and encourage local investor interest."
Maria Ramos, Barclays Africa Chief Executive, also commented that the index provided countries with valuable insights and tools to improve the state of their financial markets.
According to her, countries could do this by broadening and deepening their understanding of the requirements of local and international investors, while also Africa's leaders could develop robust markets for sustainable and inclusive growth.
Credit: ModernGhana.com