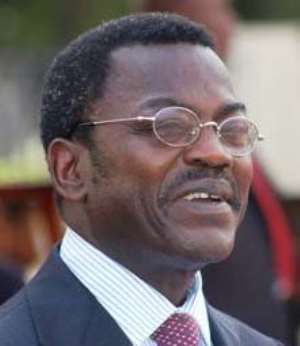 High corruption is a flashing signal that something is wrong and that there is an injustice in society, Dr Paul Acquah, a former Governor of the Bank of Ghana (BoG), has said.
He said corruption, which was the use of public office for private benefit, and the prevalent violation of rules or norms of the society to gain private advantage could destroy the very fabric of society.
Dr Acquah, who made this observation in his speech at the 2017 University of Ghana Alumni Lecture, said corruption took a toll on the economy through various channels of decision making and economic and social interactions.
He said Africa's development experience and position at the bottom of the corruption – perception scale after decades of nation building inevitably raise several questions.
Speaking on the topic 'Corruption, Culture and National Development – An Interrogation of Africa's Experience', Dr Acquah said corruption was a global concern; adding that however, for Africa it was a critical issue of governance and arguably the x-factor, the toxin, in its economic performance.
He said corruption fomented persistent weak governance, limited accountability and transparency, and episodes of conflict that restrained progress and the possible achievement of development goals.
He said the narrative about Africa's development prospects had changed over the last decade, and it was now one of optimism; but not without an undertone of some skepticism.
Dr Acquah said recent growth rates and economic and social indicators showed impressive progress and the benefits of years of economic reforms and engagement with development partners.
'Corruption, once a matter for much whispering in private and public forums, is now at the centre of the development policy agenda for countries on the path of reform,' he said, adding that it was now prominent in research and discussions on governance and the role of the developmental state that some see in Africa.
Dr Acquah raised issues and questions, provocatively, whether Africa had a false start in nation building.
He said economic transformation was the grand vision that inspired African institutions and cooperation for prosperity, peace and security.
He explained that this vision should mean breaking the cycle of high corruption and low growth and locking into the virtuous dynamics of a sustainable low- corruption high -growth environment.
'It is better to stay on the path of economic efficiency and a level playing field. It starts with a credible commitment to pursuing, with good faith and rigour, an effective anti-corruption policy embedded in law and practice as a central pillar of a comprehensive development strategy,' he said.
'It needs to be well aligned with the values and rules of the society with broad popular support. The voice of the citizenry can be a powerful force for change and sustainable development,' he added.
Professor Ebenezer Oduro Owusu, the Vice Chancellor of the University of Ghana, who chaired the function, said corruption had been an issue of great concern, especially in most African countries within government and the private sector.
He said corruption undermined good governance; which stalls public policies and leads to dissipation of resources.
Mr Paa Kwesi Yankey, the Chairman of the University of Ghana Alumni Association, said topic of the lecture was very critical for the growth of Ghana, as well as the African continent.
The lecture, which was under the auspices of the University of Ghana and the University of Ghana Alumni Association was attended by high profile personalities such as Dr Ernest Addison, Governor, BoG; with his first and second Deputies – Dr Maxwell Opoku-Afari and Dr Johnson P. Asiama; Prof Ivan Addae-Mensah and Prof Ernest Aryeetey both former Vice Chancellors of the University of Ghana.
GNA
By Iddi Yire, GNA
Credit: ModernGhana.com