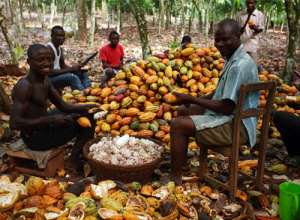 Cocoa farmers will from 2018 be signed onto a Cocoa Pension scheme.
This is according to Chief Executive Officer of the National Pensions Regulatory Authority, Hayford Atta Krufi.
The scheme which was originally proposed in the COCOBOD Act of 1984 never took off due reasons including the lack of an accurate database on cocoa farmers.
However in an interview with Citi Business News, Mr. Atta Krufi revealed that Cocobod is currently in the process of collecting the data of all cocoa farmers in the country so as to ensure the successful implementation of the scheme.
"After the next cocoa season, this pension scheme will be in place; that is the time table that we are following so today's meeting marks the beginning of a process that we hope that within one year will come into completion so that we can have a pension scheme in place for our cocoa farmers".
Mr. Atta Krufi explained that COCOBOD is in the process of gathering the necessary data on the farmers needed for the scheme.
"There is data and as I indicated the various license buying companies have got their own data but there is the multiplicity of it, so what COCOBOD is doing now is to collate all the data and then do the disseminations",
He added "So COCOBOD is in the process of collecting the entire country's farmer's data and that is the scheme upon which the pension scheme is going to be built". Mr Atta Krufi made these comments at the sidelines of the stakeholder's forum on the establishment of pension schemes for cocoa farmers.
Meanwhile the National Chief Cocoa Farmer, Alhaji Alhassan Bukari is optimistic that the introduction of the scheme will encourage the participation of the youth in cocoa farming.
"I am positive that with the introduction of this scheme, majority of the youth will be encouraged to enter into cocoa farming because as it is now they are discouraged since they believe there is no secured future for them in it but with the scheme, things will be different".
–
By: Anita Arthur/citibusinessnews.com/Ghana
Credit: ModernGhana.com