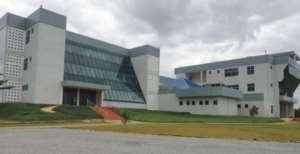 The operation of the Boankra Inland Port project meant to boost transit trade – serve importers in the Northern sector of Ghana and landlocked countries of Burkina Faso, Mali and Niger, appears not to start anytime soon.
The fate of the port, the building of which began in year 2008, has now been tied to the reconstruction of the eastern corridor railway line.
Nana Esi Soderberg, Principal Marketing and Public Officer of the Ghana Ports and Harbors Authority (GPHA), said it would be ready for business as soon as the railway line connecting it to the sea ports was completed.
Speaking at a meeting with importers in Kumasi, she indicated that, rail transportation of cargo would give real economic meaning to the project – cheaper and less time consuming.
She added that the reverse would be the case if goods from Tema and Takoradi should be moved to the Inland Port by road.
'There is the need to fix the railway lines first, before making the Boankra Port functional to ease the stress importers in the Northern parts of our country have to go through.'
Nana Soderberg said the GHPA was therefore deepening the engagement with the Railway Ministry, to get things quickened – the reconstruction work speeded up.
The meeting was attended by importers including used-clothes and shoe dealers in the Kumasi metropolis was held to discuss sea port clearance processes and the single window (paperless clearance system).
It was organized by the Ghana Shippers Authority (GSA) in partnership with the Ghana Revenue Authority (GRA) – Customs Division and GPHA.
Nana Soderberg reminded importers to make sure that all required licenses, regulatory permits and certificates were obtained before the arrival of goods at the port.
She cautioned against any temptation to cheat through the presentation of falsified documents and said offenders would have strict sanctions imposed on them.
Mr. Emmanuel Kwarteng, the Ashanti Regional Branch Manager of GSA, asked importers to see to it that their funds for duties, taxes, shipping line and terminal payments were secured before the arrival of their cargo to avoid demurrage and rent payments.
The importers, particularly those dealing in used clothing, pleaded with the government to reduce duty charges on used clothing.
GNA
By Florence Afriyie Mensah, GNA
Credit: ModernGhana.com