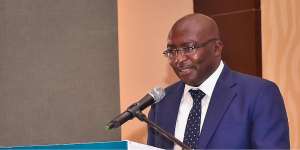 Vice President Bawumia
The Vice President of the Republic, H.E. Alhaji Dr Mahamudu Bawumia, has left Accra for Vienna, Austria to participate in the World Bank Group's Investment Competitiveness Forum, to be held from October 25-27, 2017.
A statement issued by the Bank indicated that Ghana has been selected to be a Founding Member of the Investment Reformers Network, which will be inaugurated at the Forum.
"For a long time, different international indicators have captured reforms undertaken by Governments to improve the ease of undertaking business by small and medium firms. However, those indicators do not capture the transformational Investment Policy and Promotion (IPP) reforms that can unlock FDI. Thus, key reforms impacting FDI and its spillover effects on the domestic economy may go unnoticed by the international investment community.
"The Investment Reformers Network aims at providing visibility to such transformational reforms with inputs from WBG (World Bank Group) support, and showcase their impact to the international business community.
"…Participation in the Investment Reformers Network is by invitation only, at a high political level and comprises a limited number of countries – about 15 worldwide selected for 2017, including the three "Star Reformers", the statement, signed Anabel Gonzalez, Senior Director, Trade and Competiveness Global Practice of the World Bank Group, indicated.
In a related development, Vice President Dr Mahamudu Bawumia is billed to participate in the 7th Nordic-African Business Summit in Oslo, Norway, slated for October 26, 2017.
According to the organisers, the summit is designed to promote and create awareness of the many business opportunities on the African continent, as well as bridging the Norwegian/Nordic and African business communities.
It is being organised by the Norwegian-African Business Association (NABA) and Norfund, the Norwegian government's investment fund for Africa – in partnership with the Financial Times (UK).
The Vice President returns to Accra on Friday October 27, 2017.
Credit: ModernGhana.com