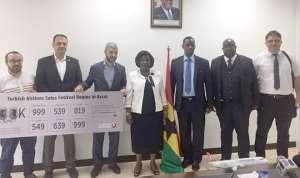 Minister for Aviation, Cecilia Dapaah, has urged management of Turkish Airlines to help propel air connectivity across the African sub-region.
The Minister made the call on Tuesday in Accra when a five-member delegation of Turkish Airlines Ghana called on her at her office to discuss the airlines' reduction in fares in Europe and US, and its support for the upcoming Africa Air Show scheduled to take place from 24-26 October, 2017.
Ms Dapaah lauded the airline for its achievements in Ghana since its inception.
She called on Turkish Airlines to consider reducing airfares in Africa.
She explained that "I have seen some figures that you have grown from 2010 up till 2017, 75 percent and if I am right, this is unprecedented. I haven't seen such growth in any airline business. So I believe it's a testimony that Ghana is good for investment."
"I will at this juncture plead with you that if you are doing special fares to Europe and US, why not in Africa," she stated.
Making a case for Turkish Airlines to reduce its fares to the sub-region, the minister explained that "airfare in Africa is too expensive and you must lead the way. Where you make profit elsewhere, you can subsidize by having promotions in Africa because Africa lacks connectivity."
"Even as I speak in the ECOWAS region, you know we are 350 million people which will grow according to the projection to 500 million people in 20 years' time. Where is Turkish Airlines' policy regarding that? she quizzed.
According to her, "We need strategic partners to come in to help open up the aviation market in Africa. The whole world is growing at 5 percent, Africa is projected to grow at 6 percent and Ghana I am sure we will grow about 20 percent."
On his part, Ghana Country Manager of Turkish Airlines, Ferhat Yerli, expressed gratitude for the support it has received from the people of Ghana over the years.
"We are very happy to be here in Ghana and also we will like to work with Ghanaian companies and also Ghanaian aviation," he said.
Credit: ModernGhana.com